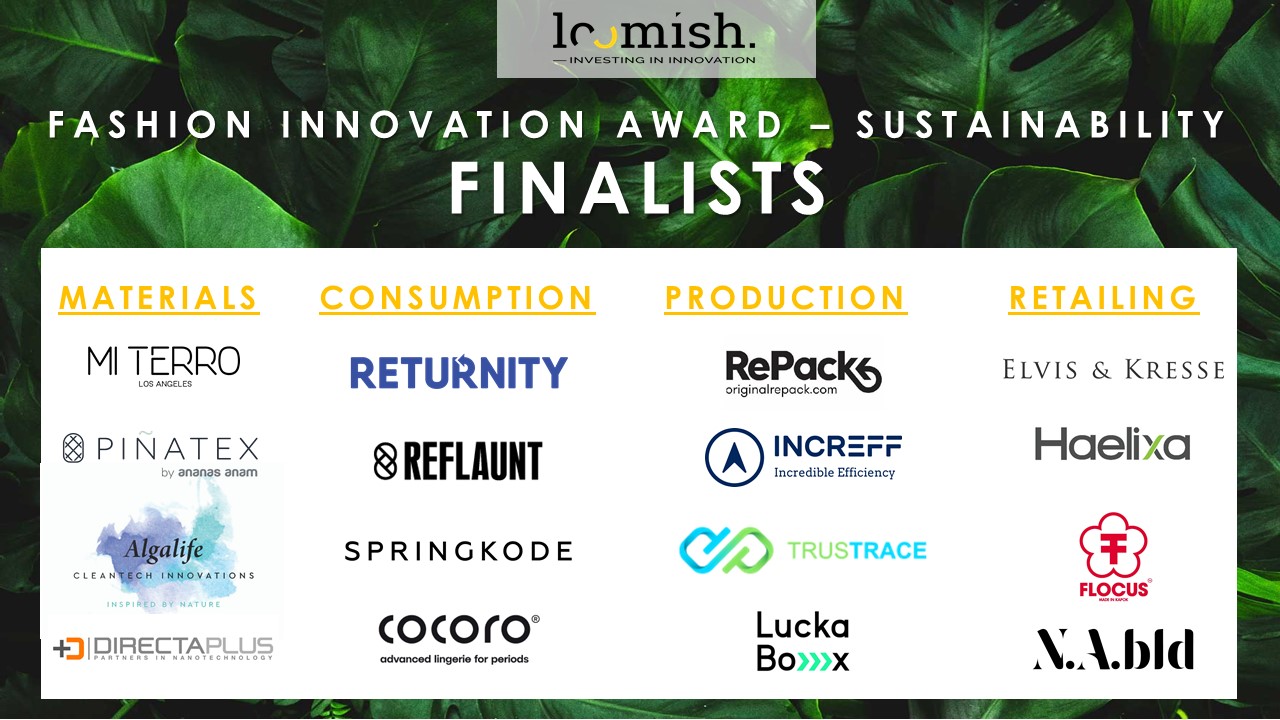 Lugano, March 5 2020
Loomish, a Swiss investment management firm, has announced the finalists of the competition promoting mature start-up with ground-breaking solutions that could help big fashion brands tackle sustainability. In a very strong international group of 16 finalists, two are Swiss.
The finalists will pitch for the Fashion Innovation Award, sustainability edition in front of a prominent international jury panel composed of high-level industry executives, tech leaders and investors.Jelena Tasic Pizzolato, Innovation Director at Loomish, commented:
"This is the year of sustainability in fashion and we are proud to be contributing to matching big brands with innovative start-ups in this highly fragmented innovation segment.

We have had applications from 33 different countries and 6 continents; the majority of them are serious emerging businesses that are already working with important clients.

Our mission with the Fashion Innovation Award has always been to provide a curated launch platform for mature FashionTech start-ups – given the number, variety and quality of our applicants, as well as the active engagement of our jurors, I can say that we are successfully delivering on that goal."
Lorenzo Ambrosini, the Director of Agire, the Innovation Agency of Southern Switzerland, and one of the jury members stated:
"We have very valuable applications with great potential for innovation in the different fields of fashion".
The Award is a part of the Fashion Innovation Week, organised by NetComm Suisse, the Swiss e-commerce association.
…AND, THE FINALISTS OF THE FASHION INNOVATION AWARD, SUSTAINABILITY EDITION ARE
The finalists of the Fashion Innovation Award, sustainability edition – four in each of the four categories – are:
SUSTAINABLE MATERIALS (in alphabetical order)
Piñatex® is a sustainably produced textile that was developed for use as a sustainable alternative to both mass-produced leather and synthetic materials, offering a better choice for a better future. It is made from the leaves of the pineapple plant, the by-product of the fruit industry.
Algalife, Israel
Algalife is a new alternative material, turning algae into bio-fiber and healthy dyes in a 100% clean & closed loop system, inside-out good fabric. Our algae-based dyes and fibers are not only good for our planet by having a positive environmental footprint than traditional processes but, are also good for our skin and body.
Directa Plus, Italy
Directa Plus is one of the largest producers and suppliers worldwide of graphene nanoplatelets-based products for use in consumer and industrial contexts. Thanks to specific conductive properties of graphene, G+® equalizes skin temperature, moving heat along the circuit from warmer to colder parts. The main effect is a unique thermal comfort enhancement.
Mi Terro, United States
Mi Terro is the only green lifestyle and technology company that turns milk waste into soft, sustainable, affordable fibers. Our fibers can apply to apparel and bed linen. Through our patent-pending technology, we created the world's first apparel line made from milk waste.

SUSTAINABLE CONSUMPTION
(in alphabetical order)
Cocorointim, Spain
Menstrual products have not altered for 80 years. It is virtually impossible to do so in a sustainable way (5.6 to 6.4kg of non-recyclable waste per woman/year). Cocoro textile innovation improves women's lives with sustainable, healthy, comfortable solutions.
Reflaunt, UK
Reflaunt is a technology company that connects first-hand retailers with the second-hand market. Reflaunt technology includes a "smart button" (plug in) that integrate its self in existing customer accounts on the retailer e-commerce.
Returnity tackles the single-use packaging problem with their custom-design reusable bags and boxes, that pay for themselves after 15 trips, last at least 40, and are recyclable at the end of their lifespan.
Springkode , Portugal
Springkode is a fashion marketplace that directly connects the customer to a high-quality network of independent European factories. These factories comply with the most demanding sustainability certifications and produce the latest trends for the top luxury brands in the world.

SUSTAINABLE PRODUCTION
(in alphabetical order)
INCREFF, India
Through its enterprise SaaS solution, INCREFF helps fashion and lifestyle brands optimize their inventory resulting in a revenue improvement of 25-30% and margin improvement by 4-5%. The solution considers nuances of complex category like fashion accounting for all operating business constraints, uses granular data, individual store level analytics, etc.
LuckaBox Logistics, Switzerland
LuckaBox is a cloud-based on demand and same- day delivery management platform. Its technology aggregates and orchestrates existing courier capacity in real time and offers easy access to their services to enterprises via the LuckaBox platform, reducing CO2 emissions in the process through optimization.
RePack, Finland
RePack is a reusable packaging service and loyalty program for e-commerce, whereby delivery packages can be conveniently and easily returned, and then reused. It is a concrete solution to reduce packaging trash in e-commerce. The bags are designed to flatten when empty to save space, and reduce CO2 emissions by up to 80% compared to single-use packaging.
TrusTrace, Sweden
TrusTrace traceability platform combines digital solutions like blockchain, AI/ML, IoT with advanced tagging solutions to establish traceability and transparency in complex, global supply chains across multiple tiers.

SUSTAINABLE RETAILING
(in alphabetical order)
Elvis & Kresse, United Kingdom
Elvis & Kresse designs systems for the dramatic increase in value of niche wastes, such as recycling aluminium. The technology has huge potential for good – if you can melt aluminium you can purify water, heat homes, recycle plastic and make renewable heat more affordable for all kinds of small scale activities.
Haelixa, Switzerland
Haelixa is an innovative product marking and tracing technology that provides reliable information for full supply chain transparency. Haelixa's product tracing solution are DNA-based markers, which can be sprayed or differently applied to textile and fashion materials (cotton, wool, etc. but also precious stones) at any stage of the supply chain (linear or circular). Each marker represents a label of quality that uniquely identifies an individual producer/farm, manufacturer, or lot number.
N.A.bld, USA
Platform that takes brands from design to delivery & allows them to sell product with just-in-time delivery or without holding inventory. It allows brands to digitize their designs, get bids from vetted, no minimum manufacturers, and to produce any product in 4-6 weeks It's a combination of content management system and manufacturing production process software.
Flocus, The Netherlands
Flocus is a sustainable ingredient brand. Flocus provides kapok fibers, non-wovens, yarns, fabric based upon kapok. Kapok is a fiber from a non-food fruit-pod which grows on trees. The tree regenerates the eco-system and uses only natural resources. Kapok is a climate positive fiber.